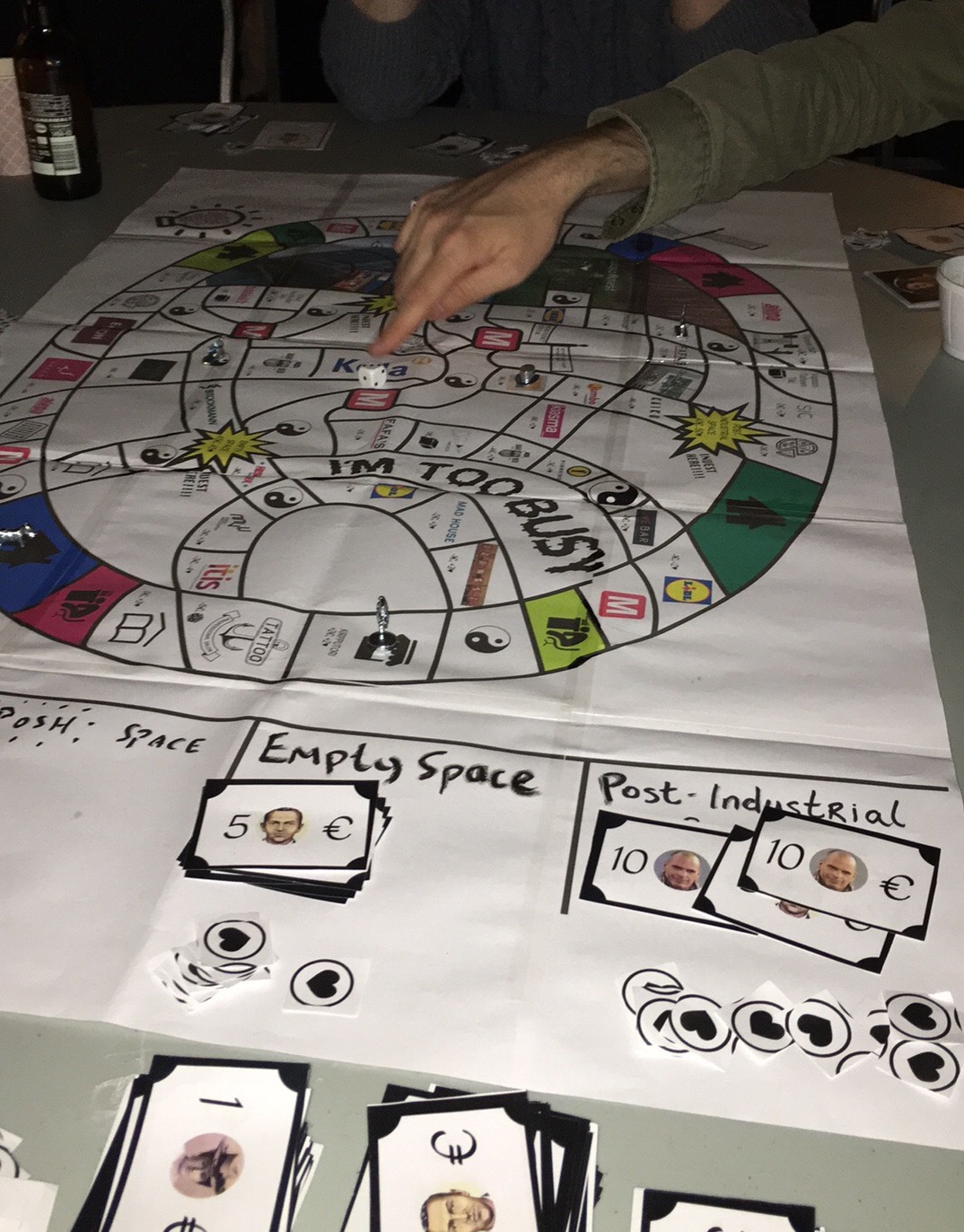 Organised by

Where

Entrance/tickets

Free entry

Venue

Main room

Kuusi Palaa stayed open for other people to use during this event, even if they were not participating in it.

Event description

I'm Too Busy is a board game where players travel around Helsinki living their lives while trying to collaboratively open new cultural initiatives. You will have a job, go to work, attend art/culture events, and pool your resources to create new culture spaces. Along the way you might fall in love, get (or not get) public funding, become burned out, eat pizza, get caught by HSL ticket inspectors, meditate in the forest, go to karaoke bars, and/or run out of money. I'm Too Busy is a game that encourages mild role-playing behaviour. All ages are welcome, though parents should be advised that the game does contain some problematic content such as alcohol use, sexual promiscuity, and arts association board meetings.

The game was designed by the Biathlon development team as a playful way to stimulate discussion and interaction about city life, cultural ventures, organising, and possibilities. Thus, each session of the game is more like a workshop, or perhaps a therapy session. The game is still in development and has been tested in two iterations so far; this will not necessarily be the 'final' version.

At Kuusi Palaa (which is a space on the board!), we'd like to run a session of the game for 6-10 players. If the event proves popular, we are happy to run future events as the game itself changes. The game should take roughly 60-90 minutes, or possibly longer depending on how many people play.

10 people attended
Viewpoints
This was the third version of the game, after the first go in Helsinki and then a few iterations in Stockholm. We tried to tweak the rules a bit to balance things out more, most primarily requiring players to eat or buy food every x number of turns (because before, no one was choosing to land on supermarket/food spaces). Not sure, however, if this just tipped it over the edge.
It was a fun night though - thanks to everyone who came, we had 9 players and Olga's wonderful daughters brought a great spirit to the evening. Nine might be just a few too many though, though maybe if everyone knew the rules and was playing a second time, it would work. It definitely felt like a more chaotic city vibe - people running around and interacting, etc. - so perhaps it was a truly urbanist board game in that sense.
Some great feedback afterwards from people - Katarina said that the character class cards, while fun/ny, downplayed any sense of self expression. I wanted this game to be 'mild role-playing' and I think it is, but then if it's also to be a secret tool for discussing shared dreams and goals, the characters get in the way of that. Maybe it's a case of trying to have things both ways and failing.
The game really is a collaborative game, not a competitive one, and this should have been stated more clearly. People seeking a more traditional competitive game might have been confused by the goal of the opening of empty spaces, since everyone could work together or split into factions, but this was not something pre-determined. I quite like the openness, but can see why it might be less rewarding. One of the versions in Stockholm had more of a 'race' feeling, as one rich player was pumping everything into the Posh Space and the other less rich players were collaborating to open the Post-Industrial Space.
Overall, though, lots of fun and lots of laughs. We should do this again soon.
Contributed by
hyksos
on 09 May 2018 10:09
"
This was the third version of the game, after the first go in Helsinki and then a few iterations...
Contributed by
hyksos
on 09 May 2018 10:09